BLISTER PACKS
Blister pack is formed as a result of heating the material and giving it a proper shape set by the mould. Another term for blister commonly used is stamping or moulding. It is a product made with thermoforming technology. For the production of blister packs, transparent films (mainly PET and PVC) are most often used due to the possibility of an elegant exposition of the packed product. The possibility of sealing a blister with a box or foil protects goods against accidental opening or theft. For ecological reasons, the snap blister, made of homogeneous and easily recyclable material (PET, PVC) or a blister sealed with another blister or foil of the same type, is becoming more and more popular.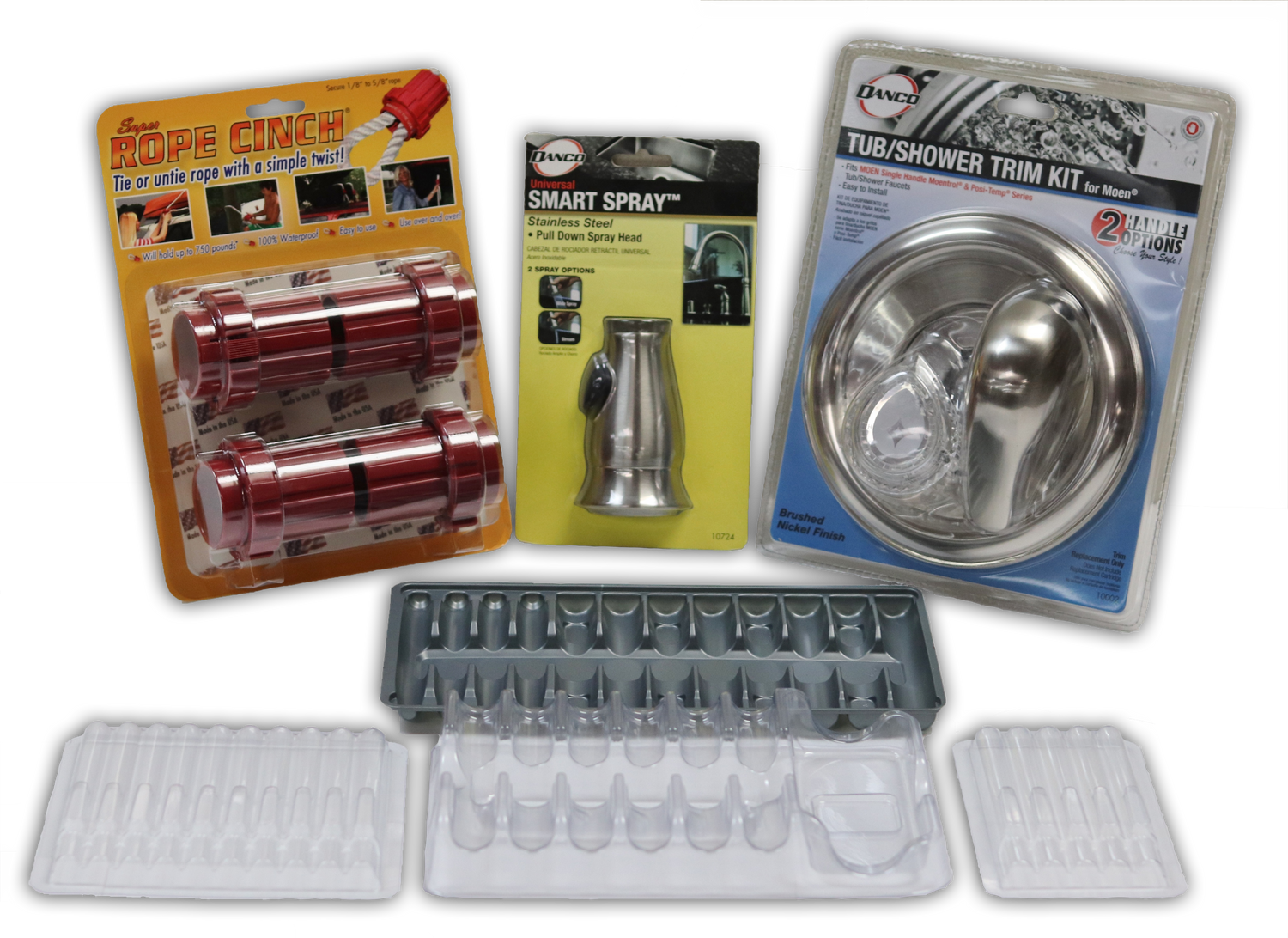 TYPES OF PLASTICS
We provide following Blisters:
• Heat sealable Blister
• Trap blister
• Stand up blister
• Folded blister
Blister packs are very popular and can be found in practically every market segment. Batteries, toothbrushes, metal items (screws, nails, nuts), cosmetic items (lipstick, mascara, etc.), school supplies, toys, and more are packaged this way.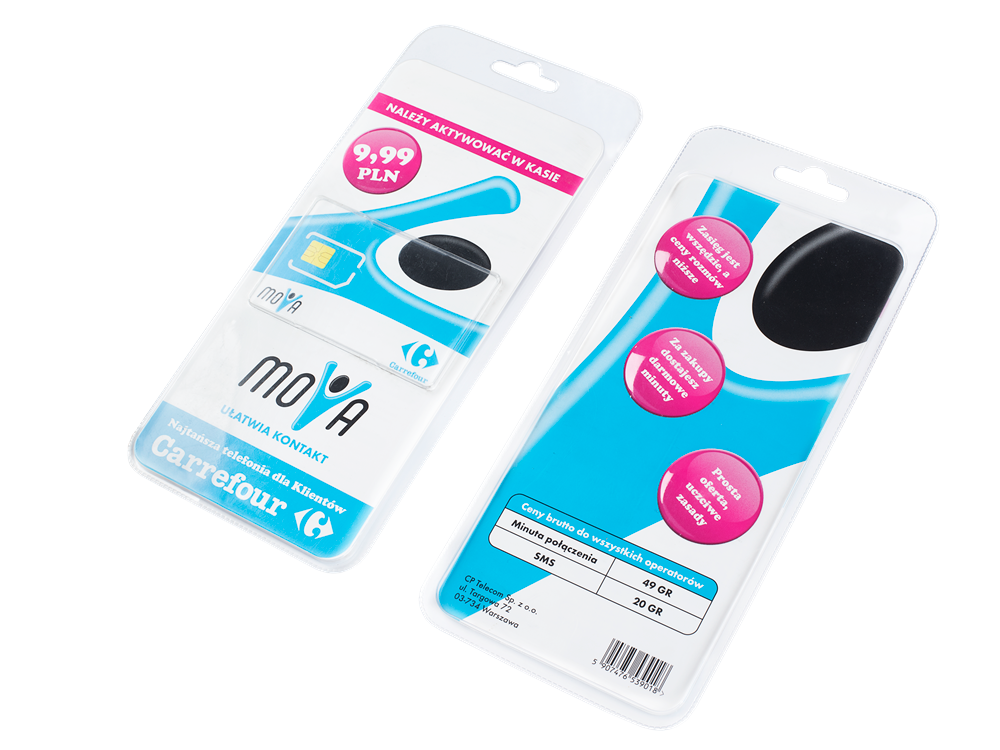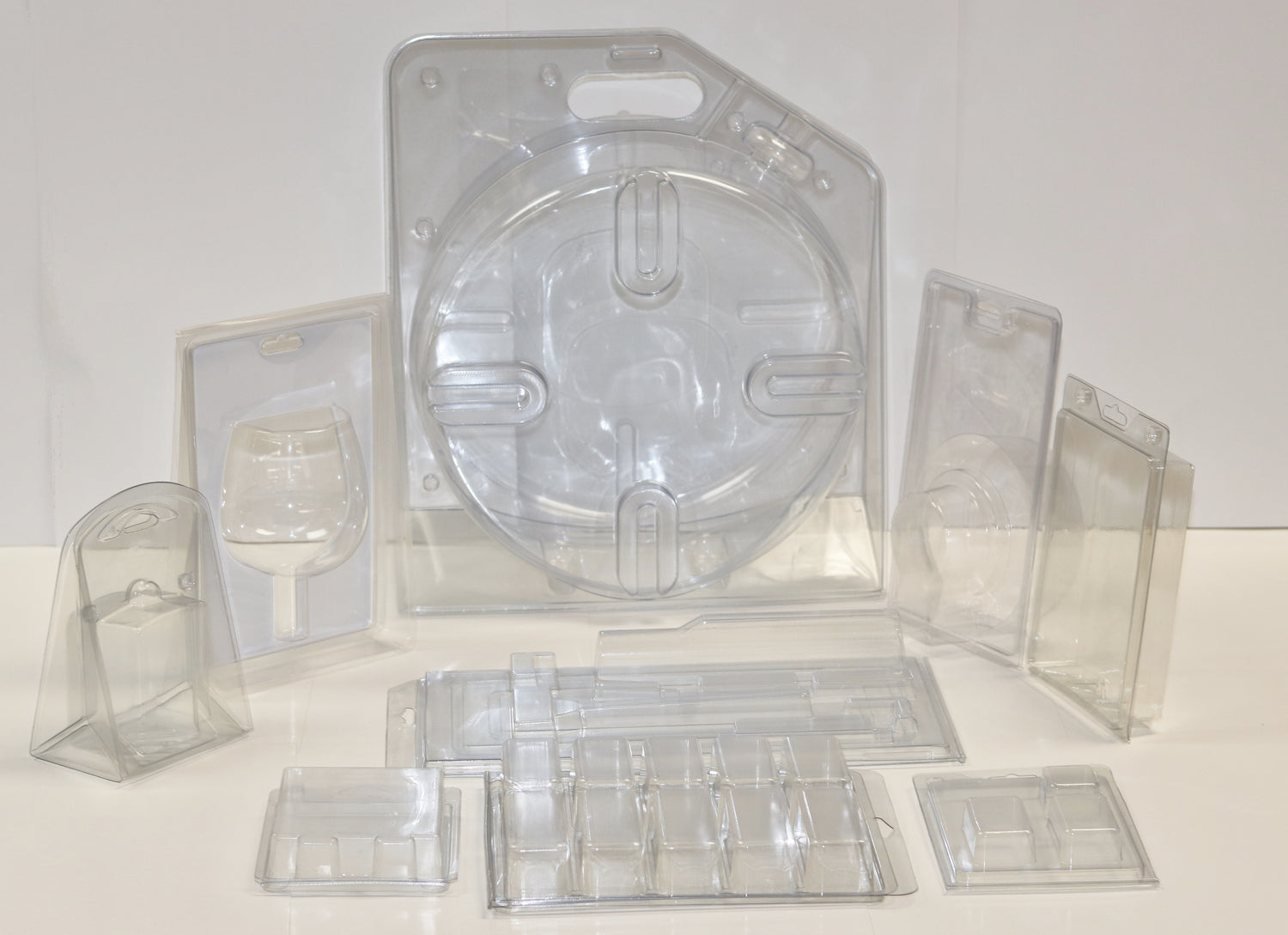 Clamshells
Clamshell containers can be made of a variety of materials. Plastics such aspolystyrene,polyester,PVC, foam sheets, etc. The material can be made bythermoformingor can beinjection moldedinto the desired shapes. A single piece of material is used for the top and bottom with a "living hinge" that is integral to the material, rather than added separately. Clamshell packaging works great for packages that need to hold heavy products, or items like electronics that are a target for theft.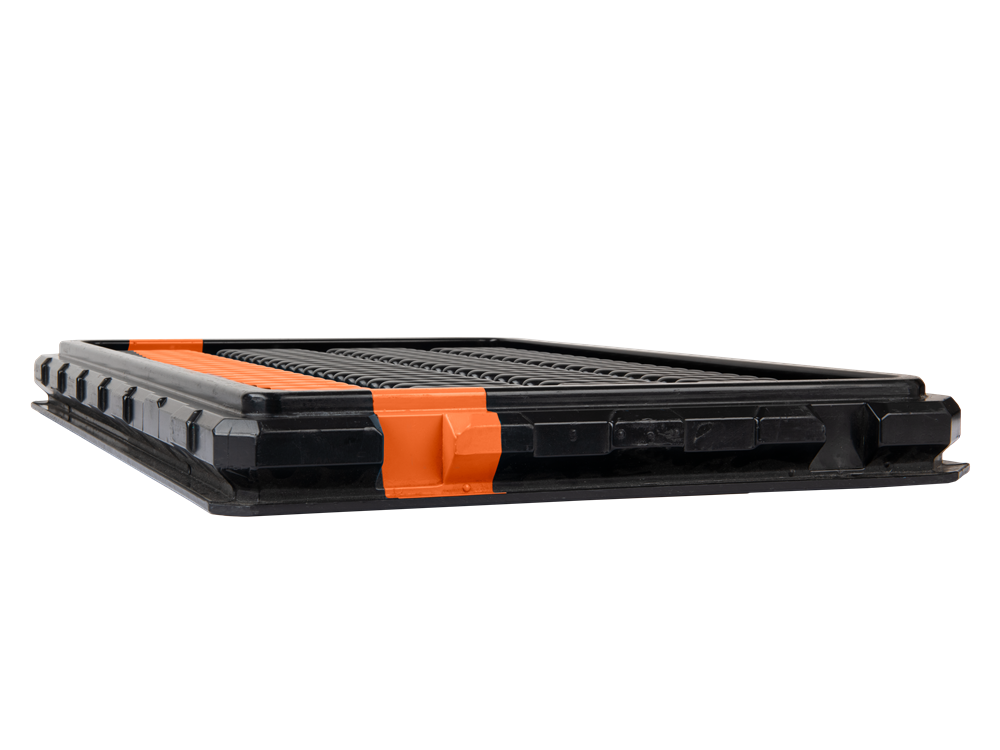 TRANSPORT TRAYS
We manufacture transport trays. The primary task of transport trays is to secure and separate workpieces with as many slots as possible. Our trays provide protection against dust and splashing of products, and by using special ESD materials they also protect against electrostatic charges. In industry, these types of trays are most often used for intermediate transport, external logistics and storage.
Trays are made from a variety of materials, including: ABS, HIPS, PVC, PET.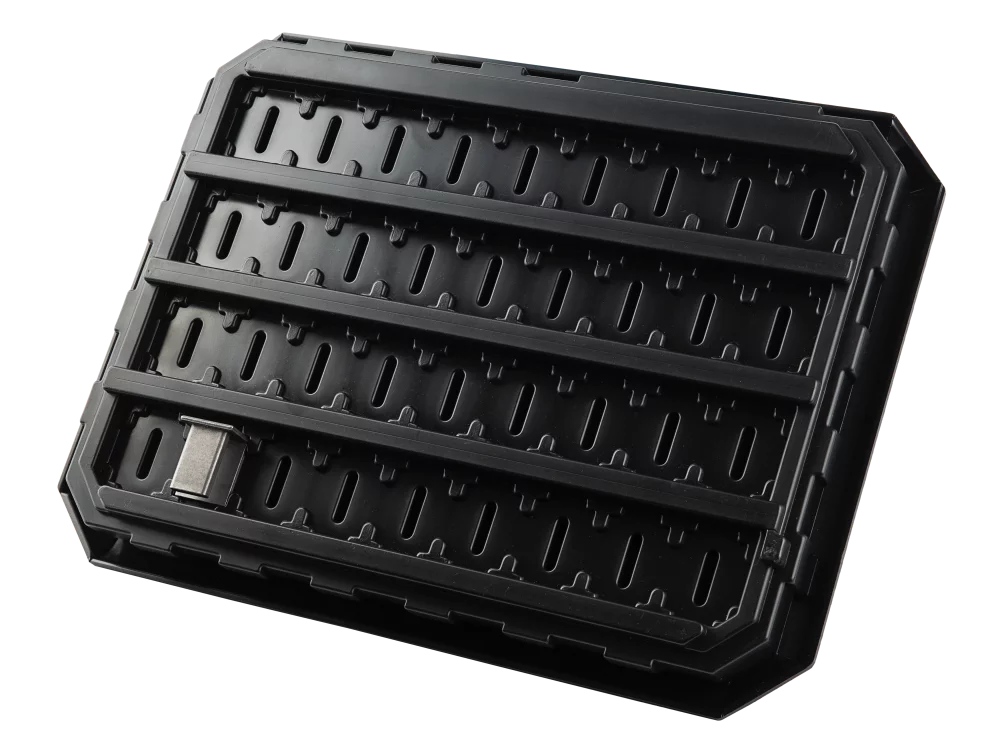 • Trays, after designing the geometry and appropriate materials, can have the characteristics of a self-supporting tray with high rigidity and strength.

BOX INSERTS
The main task of box inserts is to position the pieces, often preventing the product from moving in the package.
The cavity in the insert very often accurately reproduce the geometry of the packaged elements, thanks to which the movement inside the moulding is minimised, and the chance of damage to the parts during transport reduced to a minimum.
The compartments in the insert can also be used to sort a variety of small items as in card and board game inserts. Most disposable inserts are made from thin films, but in the case of board game inserts, the life cycle of the moulding is much longer and high quality and thicker films can be used.
For improved aesthetics, inserts can be made of flocked or decorative foil in a variety of colors.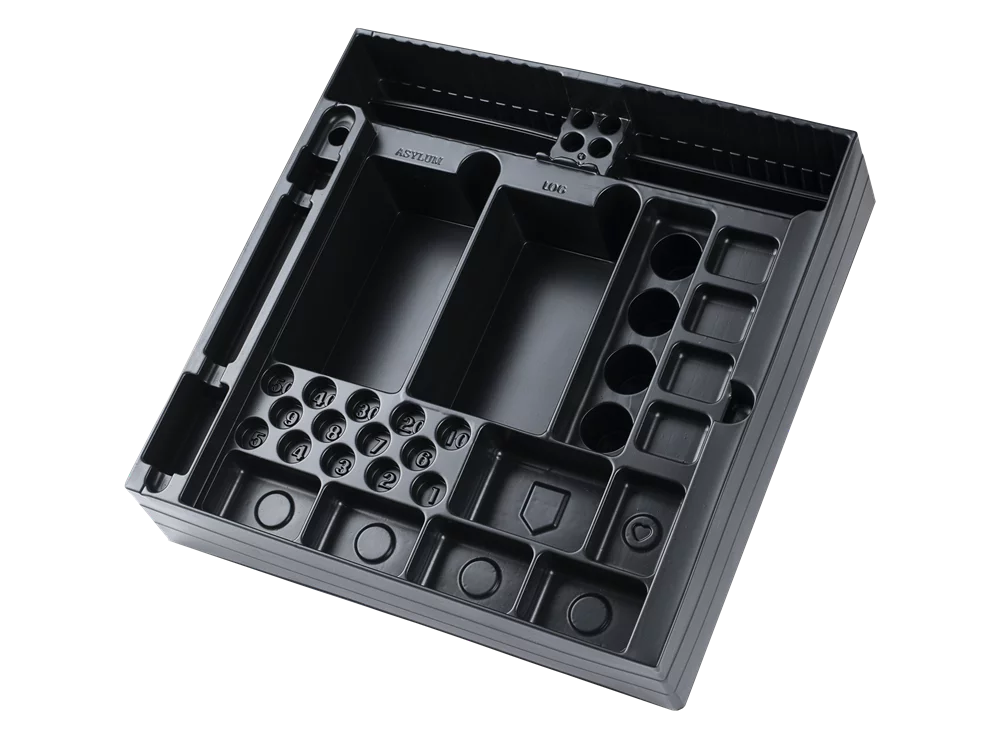 The most commonly used materials for box inserts are PET films – black, white, transparent, colored, and flocked. We design box inserts based on the target box provided and the pieces that need to be placed in it. We offer initial 3D visualization or prototype moulding based on moulding on a simple resin mould.
DISPLAYS
Share information about your brand with your cuAdvertising displays, exhibitors and stands are designed to attract customer attention and well expose the product sold. They are used in stores, showrooms and exhibitions, among others. They further enhance the aesthetics of the entire set. Our displays can be the final stand-alone product or be created as stand element, such as inserts for cardboard, wooden or metal stands.

A key aspect is the design of the display, which we receive from the customer or design in-house, in consultation with the customer.
The most important thing is to meet the expectations of the customer; we serve our experience and suggest modern solutions, taking into account current trends in the advertising industry.stomers. Describe a product, make announcements, or welcome customers to your store.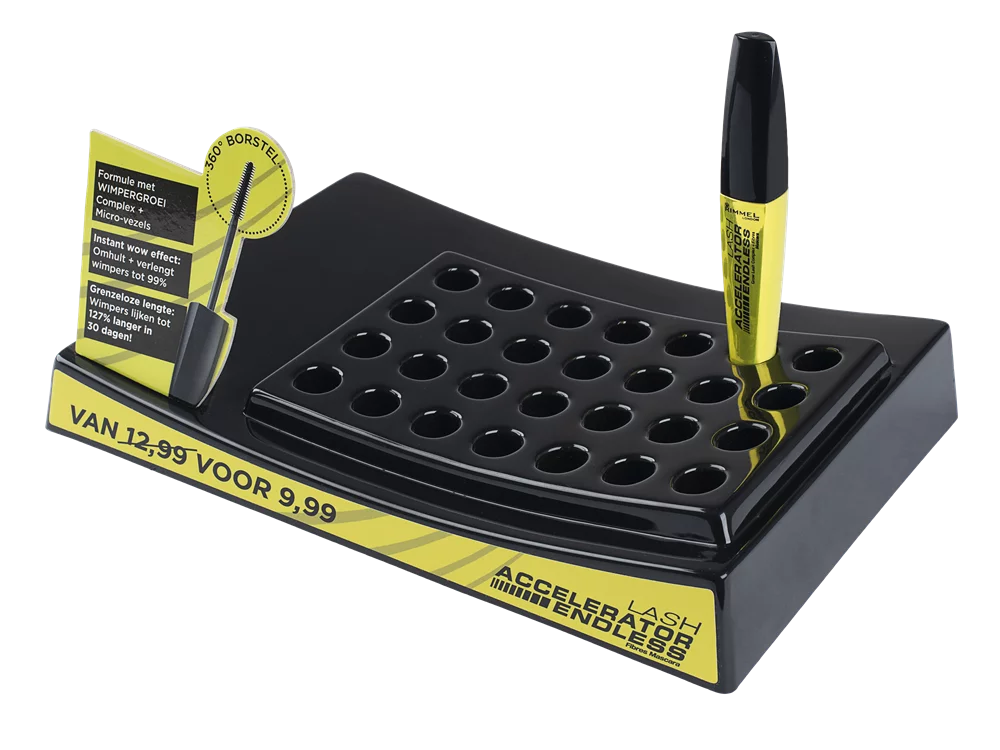 Displays are usually produced from high gloss or flocked films, They are made of various types of materials, including: ABS, HIPS, PET and others.Most projects of this type are carried out for the cosmetics, retail, food and industrial sectors.